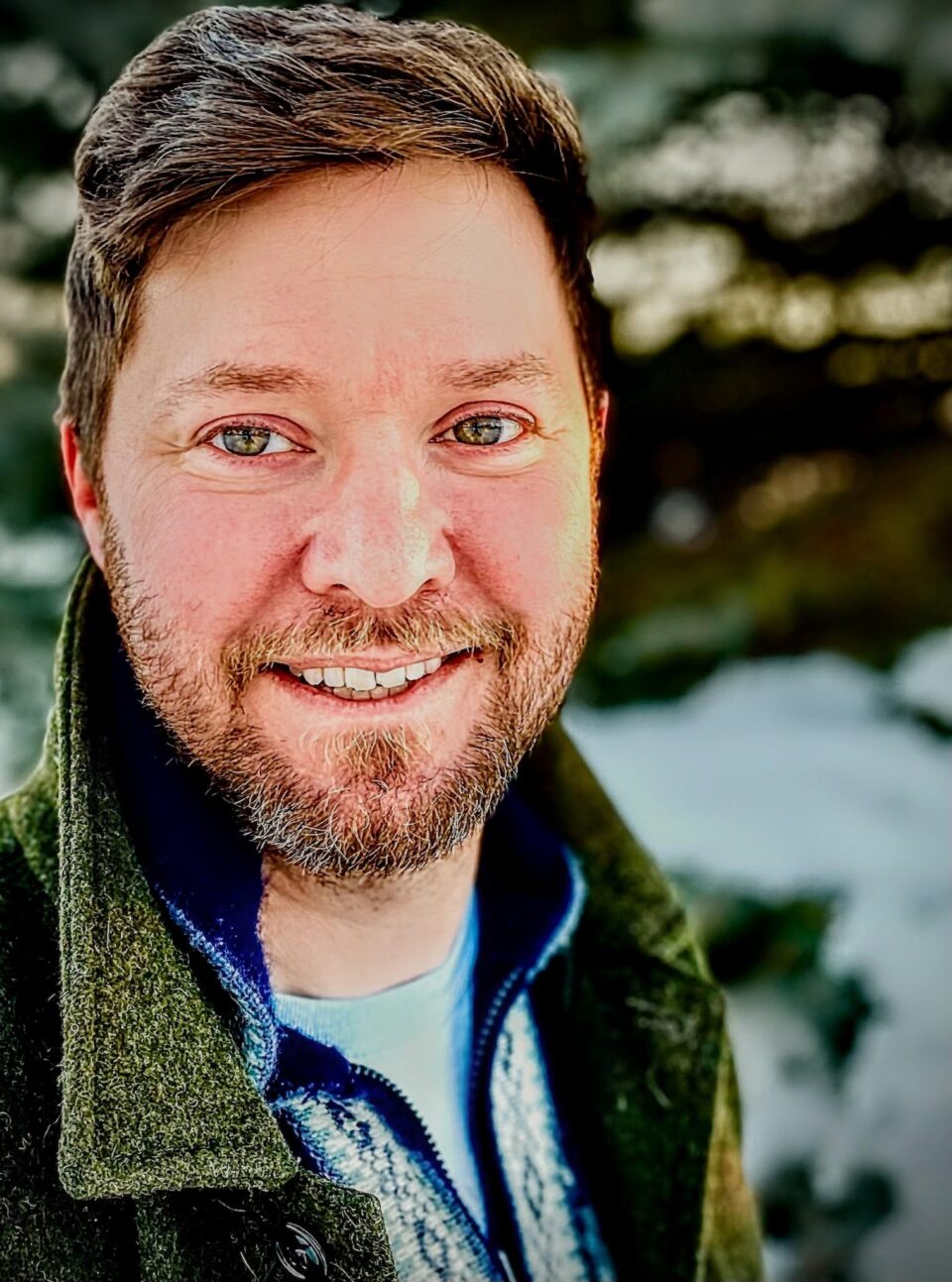 I received my Bachelor of Science degree from the University of Richmond in 2006. From there, I moved to Pensacola, FL for a year where I worked as an hourly contractor for the EPA's Office of Research and Development. I then moved to Dauphin Island, AL to study coral reef ecology; I received my Master of Science in Marine Sciences from the Dauphin Island Sea Lab in 2010. Immediately following, I moved to Miami, FL to study coral reef ecology at Florida International University with Dr. Deron Burkepile (now at UCSB). Apparently, the ocean and I just don't get along, so I switched to terrestrial plant-insect ecology, co-advised by Dr. John Parker at the Smithsonian Environmental Research Center in Edgewater, MD. In 2015, I received my PhD and moved to Colorado State University for a USDA NIFA postdoctoral fellowship, where I studied the impacts of drought on insect control of grassland nutrient cycling. In 2019, I began as an Assistant Professor at Marquette University.
Michelle Budny
-Lab Manager
"Oh, I like science (and the Blackhawks)"
I graduated with a Bachelor of Arts degree, majoring in Environmental Science and Physical Geography, from Carthage College in 2009. As a graduate student at Florida Atlantic University, I studied the leaf gas exchange and water use efficiency of two subtropical wetland species and received my Master of Science degree in 2015. Between my bachelors and masters degrees, I worked as a technician for a broad range of ecological research projects including eDNA surveillance of Asian carp in the Great Lakes basin and the bait trade, vegetation surveys of aquatic plants and tropical rainforest seedlings, and monitoring pine flatwood community recovery after fire. Prior to my current position, I spent four years as a Hydrologic Technician for the USGS Caribbean-Florida Water Science Center measuring stream discharge, salinity, and storm surge events. Thankfully, I returned to the Midwest to join the Lemoine Lab in January 2020.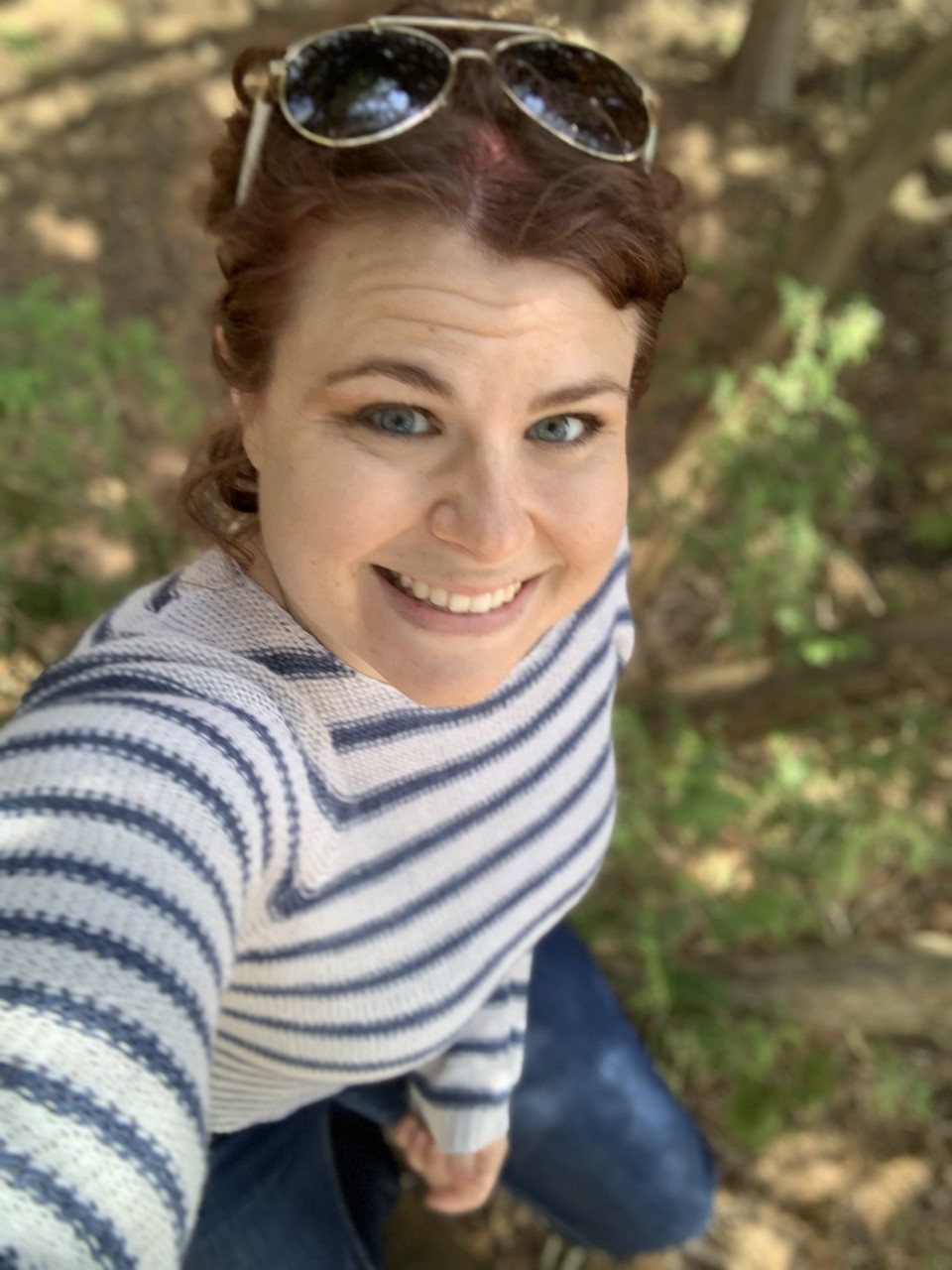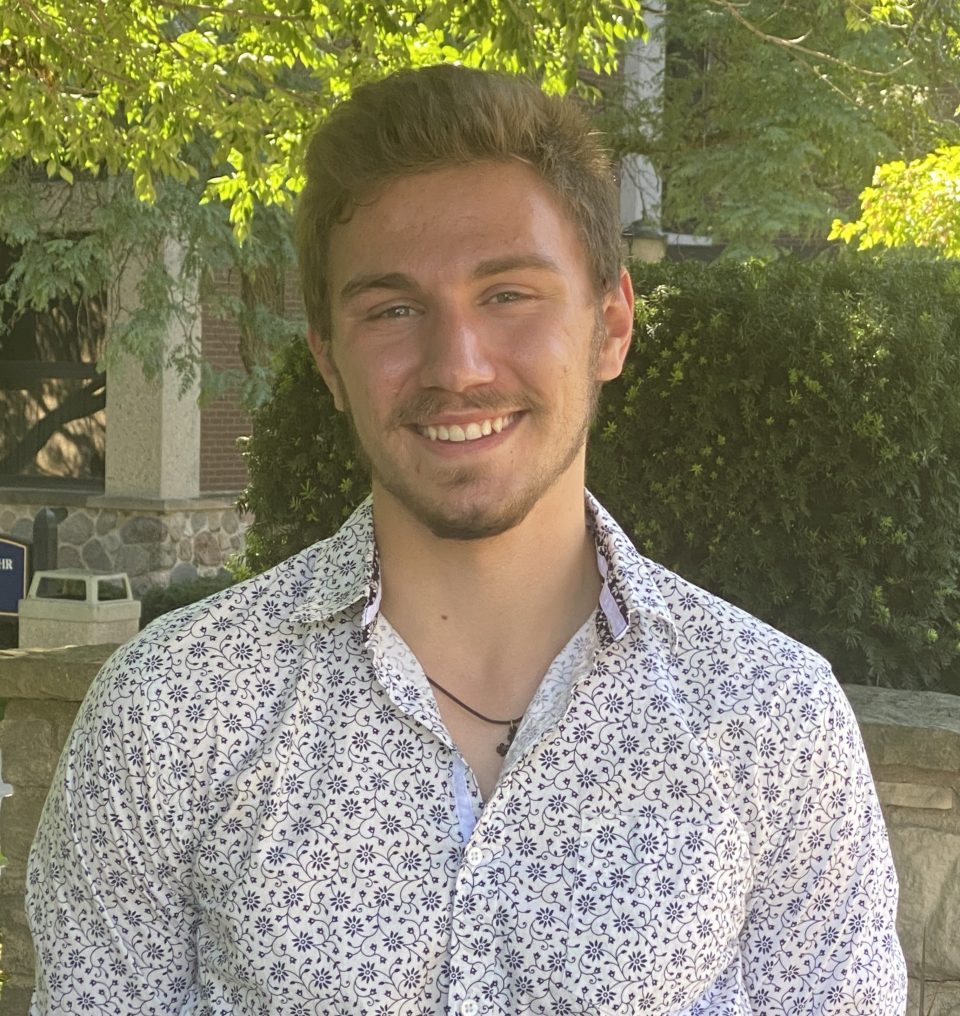 Anesti Sotirovski
-Soil Microbiology Technician
"Have you ever eaten a whole bag of cherries?"
I recently received my U.S. citizenship in May 2021. I am first generation, born in Korçë, Albania but my nationality is Macedonian. I speak four languages, including English, Spanish, Macedonian,  and Albanian. I am also a first generation college student, and graduated from Marquette in 2023. I am majoring in Biological Sciences with a minor in professional selling. Some of my interests outside of science include mountain biking, photography, and cooking. Before starting at Marquette, I represented Glenbard East High School at UC Berkeley through the 2018 NSLC program. I joined the Lemoine Lab in the summer of 2021, and will continuing with independent research throughout my time at MU. My project explores factors that impact soil microbial respiration.
Jennifer Sailor
-Master's Student (Statistics)
"I can't believe my mom moved to Kansas…"
Originating from the city of fountains, Kansas City, I embarked on an academic journey at Lindenwood University in St. Charles, MO, earning a Bachelor of Science in Data Science with a minor in Mathematics in 2022. Seeking to deepen my knowledge, I am currently pursuing a Master of Science in Applied Statistics at Marquette University. In April 2023, I joined Lemoine Lab, where I engage in a research project involving modeling 6 species of Lepidoptera in Kruger National Park using publicly available data. My passion for coding, statistics, and interest in nature led me to this fascinating intersection of quantitative ecology. During my leisure time, I enjoy watersports, spending time with family, and tumbling.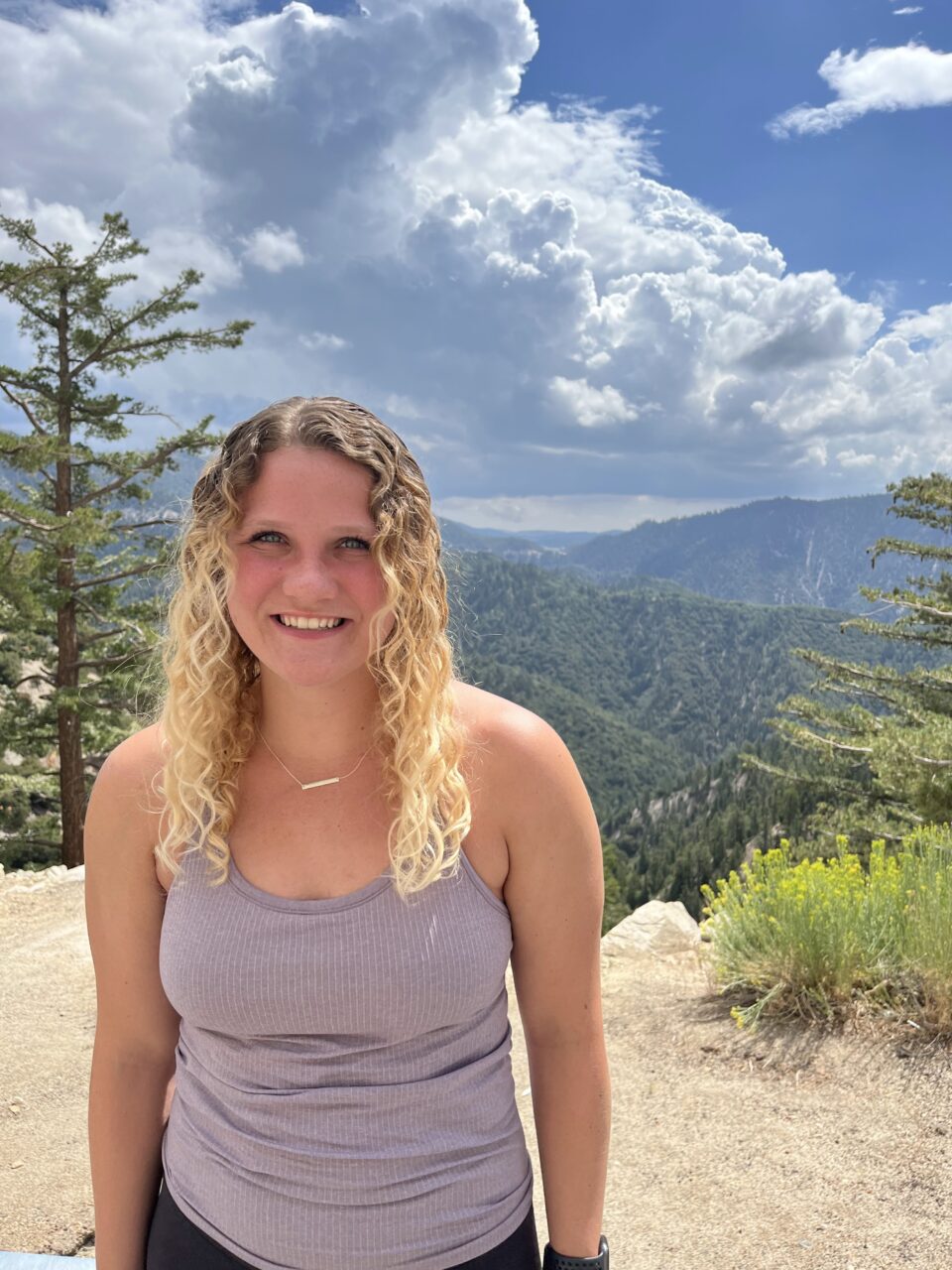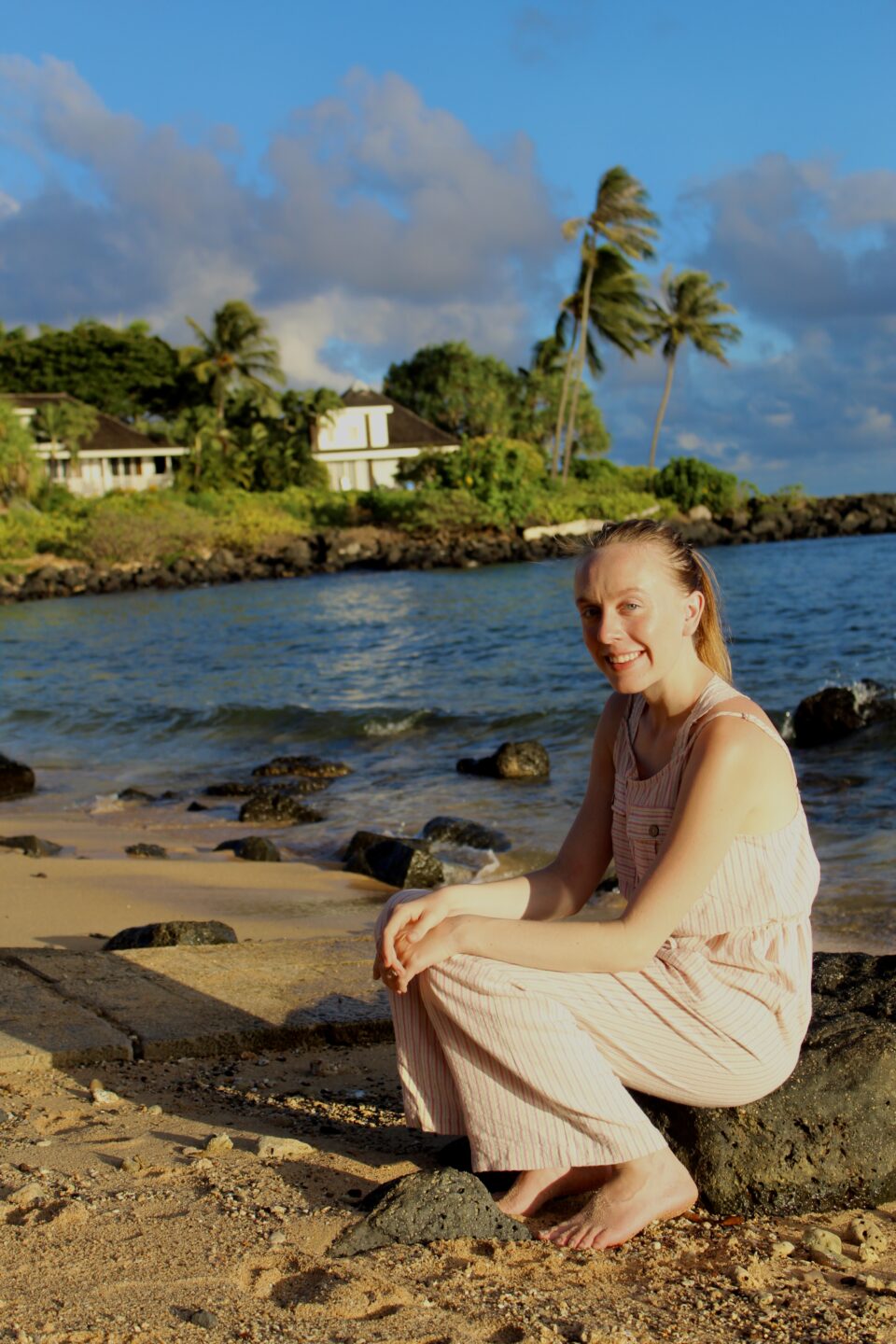 Novalee Sweeney
-Soil Microbiology Researcher
"Can we rewatch Lord of the Rings yet?"
 I attend the Milwaukee School of Engineering and will be graduating in Spring 2024 with a major in Biomolecular Engineering and a minor in Chemistry. I grew up in a small Illinois town, Spring Grove, where I met my now husband, Alex. I joined the Lemoine Lab in September 2022 on a part-time volunteering status to gain undergraduate research experience outside of my engineering responsibilities. I am passionate about the topic of emerging contaminants and environmental chemistry and so, as of summer 2023, I am researching the emerging contaminant: artificial sweeteners. By analyzing the microbial soil respiration with variable amounts of two different artificial sweeteners, I am able to model if these artificial sweeteners affect soil microbes. In my free time I enjoy eating my weight in popcorn at the movie theatre and roller blading throughout the Milwaukee area.  
Ally Olsen
-Community Engagement and Insect Research Undergraduate
"Skip the straw, save a turtle!"
My interest in ecology was first sparked in 2019 when "Skip the straw, save a turtle," became the popular phrase circling the internet. My AP Research project in high school involved sustainability-related research, and I was able to continue pursuing that interest in this lab during the spring semester of my Sophomore year. As of summer 2023, I am researching Environmental-DNA and ways to utilize this method for population surveys in both lab and community-science based endeavors. I will be graduating from Marquette in the Fall of 2024, majoring in Environmental Science with a minor in Computer Science. I currently plan to pursue a degree in Environmental Law after undergrad. In my free time you will find me either outside, hammocking and reading, or inside, sewing and painting!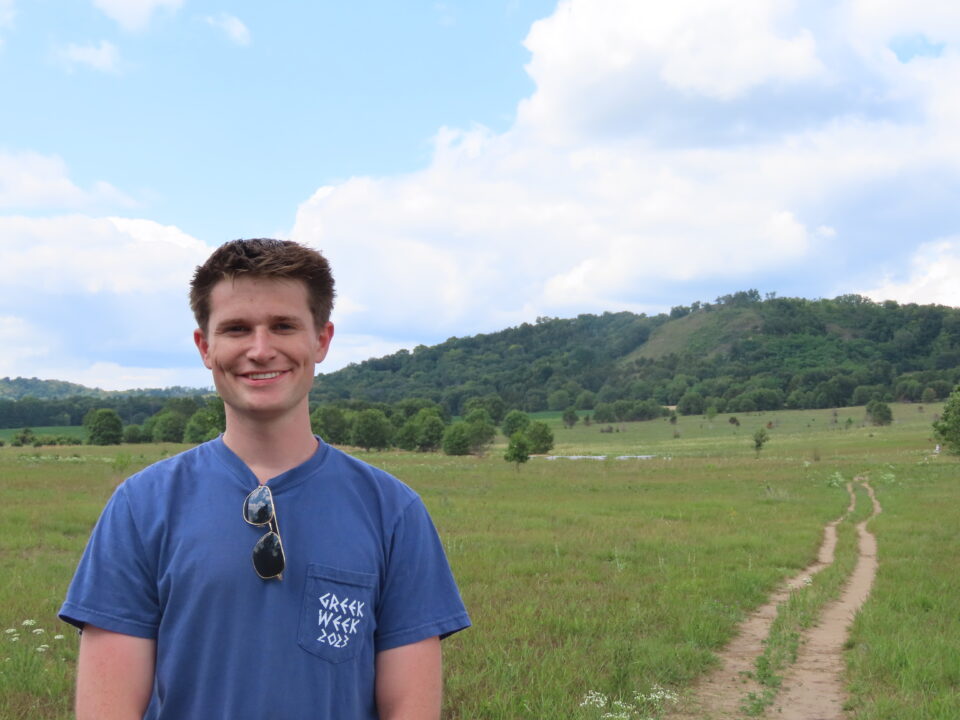 Andrew Plas
-Plant Physiology Researcher
"Ever thought about joining a fraternity?"
I am currently a Junior here at Marquette University majoring in Biological Sciences. I grew up in Cincinnati, Ohio where I discovered a love for science and the outdoors. I am broadly interested in plant physiology as a whole, but within the context of the Lemoine Lab I am interested in the drought resilience of certain African and native Wisconsin plants as climate change causes increasingly variable weather patterns. I have been a member of Delta Tau Delta Fraternity since my Freshman year and I currently hold the position of Vice President on the Inter-Fraternity Council. Besides my interests in intermural basketball and soccer, I enjoy running and cooking.
Sasha
-Lab Security Blanket
A rare breed combination of English cocker spaniel and Cajun mountain goat, Sasha was supposedly born in Louisiana, but no one knows for sure. She was given up for adoption and promptly whisked away to the Miami Humane Society on account of her being adorable. She was quickly adopted by the PI, and has been a faithful companion, field helper, and lab mascot ever since. When not doing field work, she can be found snoozing in the office, chasing her ball in the hallway, attacking her PI's feet, or chasing squirrels and gulls across campus. Sasha's research interests include snow, rodent and avian behavior, and aquatic fitness.
If you're curious as to how such an adorable animal came to be, you can find out here!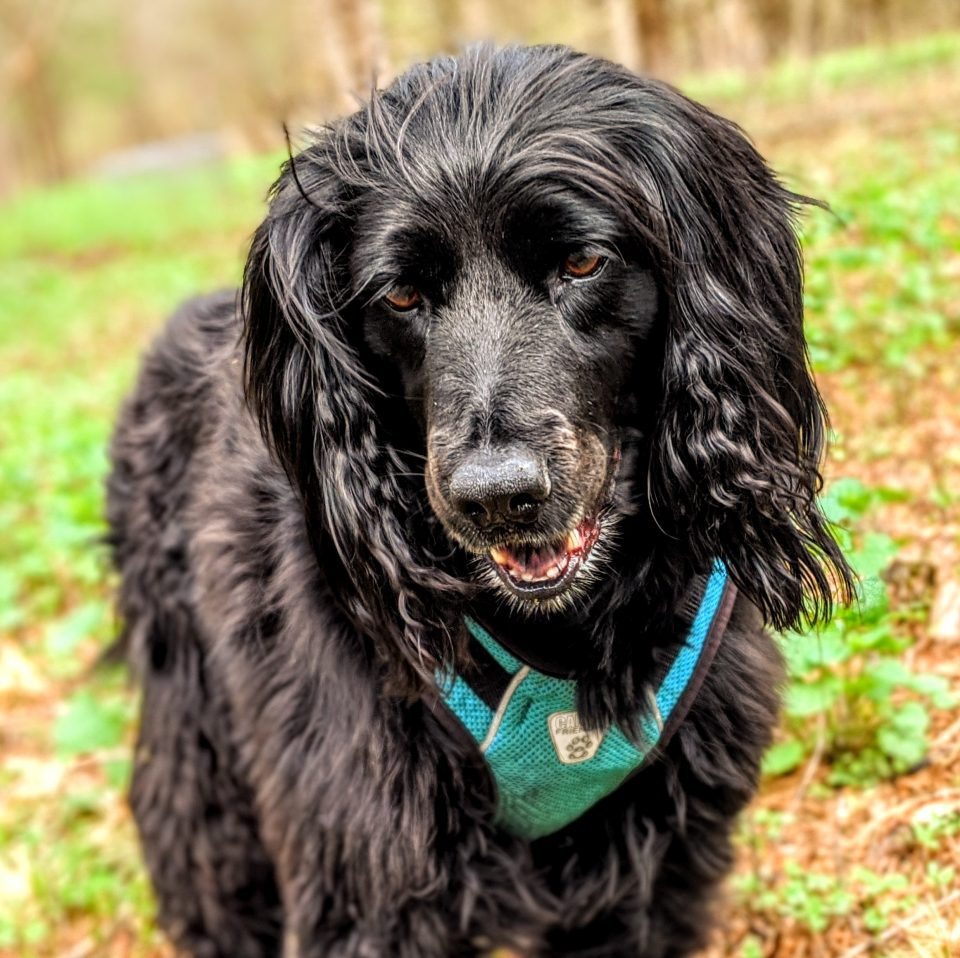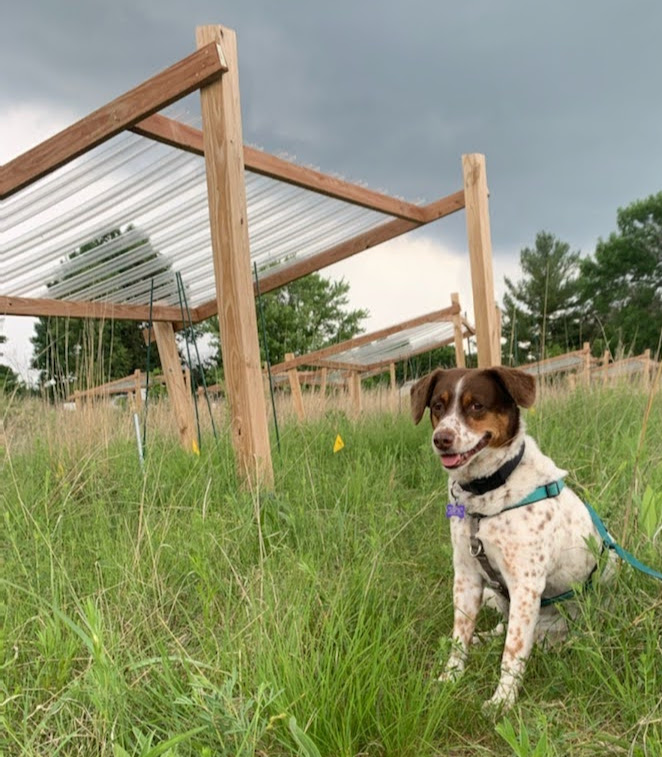 Scout
-Assistant (to the) Lab Manager
"IT'S TIME TO GO OUTSIDE NOW! NOW! DID YOU HEAR ME?"
Scout is a newcomer to the world of science (and to dog life in general). After a tumultuous time in shelters and foster care, he was adopted by the Lab Manager in September 2020. A friend to everyone he meets, he loves pets and scratches and quickly learned which offices have the best treats. Scout is usually found napping in the lab or following the lab manager, although he has been known to escape on his own adventure from time to time. He now has a record with Marquette Public Safety as a known food thief. With his keen internal clock, he is often heard alerting the lab manager when he's ready for an afternoon walk or when it is time to go home. Scout's research interests include urban geography and small mammal nutrition and behavior.
Gabriels, Kaylees, Zoes, Abeds, and Troys
-Lab Atmosphere
Gabriels and Kaylees are white cloud minnows who joined the lab in May 2023. In June 2023, they were joined by neon tetras Zoes, mystery snails Abeds, and nerite snails Troys. As of August 2023, the tank also welcomed two new members: red velvet swordtail Wash and koi guppy Inara. While the fish don't appreciate Sasha as much as other lab members, especially when she tries to drink out of the aquarium, they do enjoy chasing each other and snacking on insects. Abeds enjoy motoring around the tank and a good snack of blanched broccoli, while Troys are shy and tend to come out only at night. If you time it right and come in early, you can see Troys and Abeds in the morning.